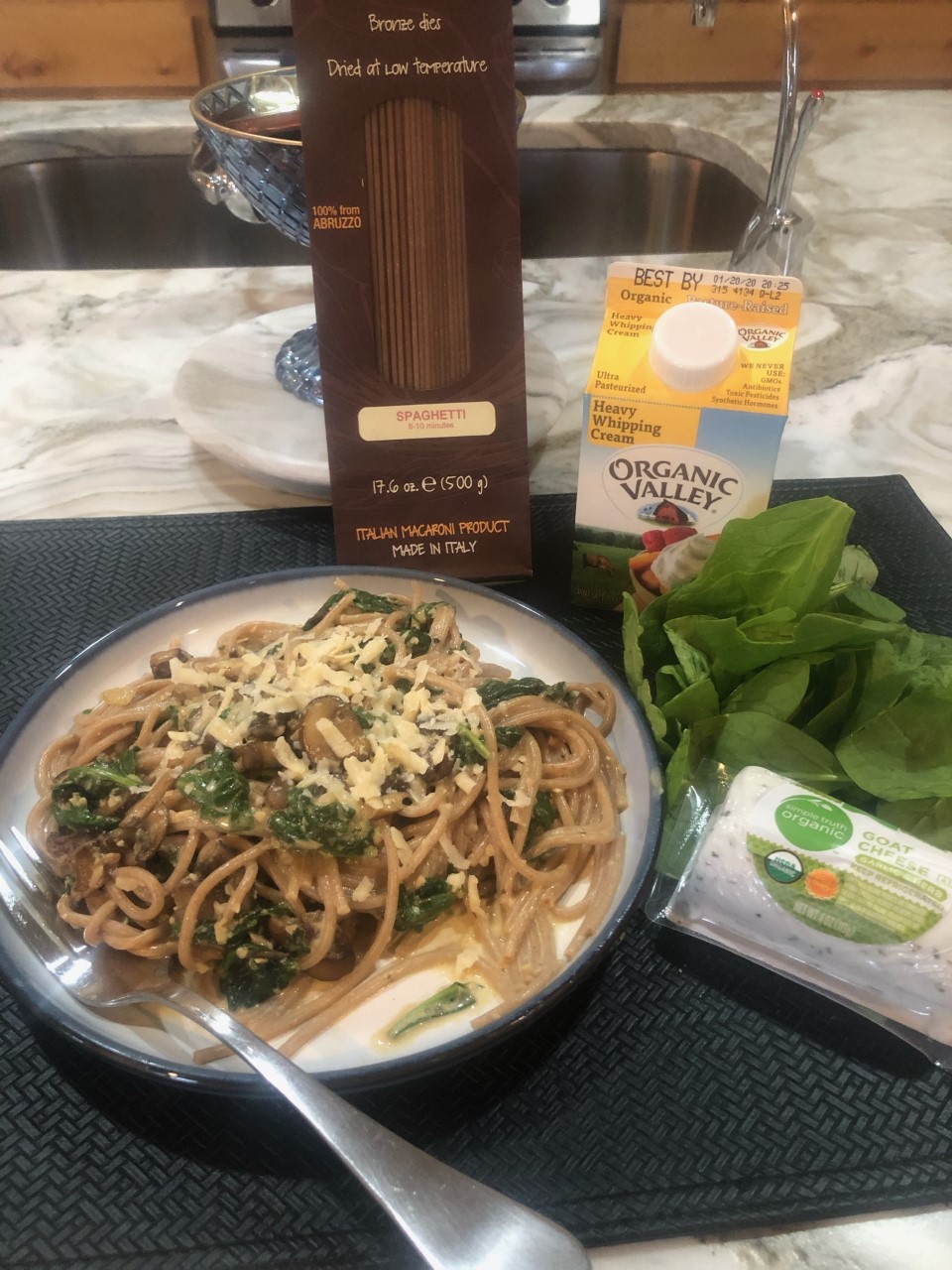 Mushroom Pasta with Goat Cheese
Swimming in white wine, garlic, and cream sauce. Perfect for a date in!
Ingredients
9

oz.

uncooked Farro Spaghetti noodles

3

tbsp.

butter

2

tbsp.

Titoni oil

24

oz.

fresh mushroom, sliced

(I used cremini and shiitake)

¼

cup

minced garlic or shallots, or a combination of both

1/3

cup

a splash of white wine

(about 1/3 cup)

½

cup

heavy whipping cream

1

tsp.

salt

1

cup

chicken or vegetable broth

¼

cup

Parmesan cheese

3

cups

spinach, chopped

6

oz.

goat cheese, herb & garlic
Instructions
PASTA: Cook the pasta according to package directions. Drain and set aside.

MUSHROOMS: Heat the butter and oil in a large skillet or pot over medium-high heat. Add the mushrooms and sauté until golden brown and soft, 5-10 minutes. The mushrooms will cook down and reduce in size. Add the garlic and white wine (it should sizzle a bit) and give it a few good stirs. Add the whipping cream and salt.

TOSS: In a large pot, toss the pasta with the mushroom sauce from step two. Add some or all of the broth if you feel like you want there to be more sauciness (it sort of depends on personal preference – we had it with the added broth, and without, and it was good both times).

SERVE: While the pasta is still warm, stir in the Parmesan cheese. Just before serving, stir in the spinach and goat cheese, or just to each serving with a few chunks of goat cheese.
Manny's Products Used