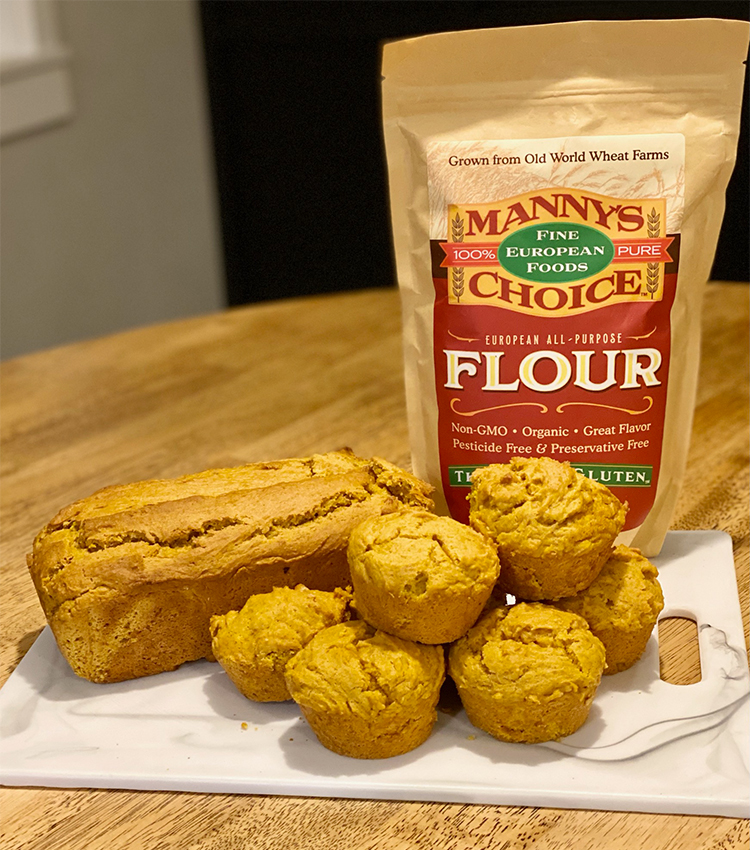 Manny's Choice Pumpkin Bread
Ingredients
1

can

29oz pumpkin puree

4

cups

granulated sugar

2

pieces

eggs

1

cup

canola oil

5

cups

Manny's Choice Flour

1

tsp

natural sea salt

2

tsps

cinnamon

2

tsps

pumpkin pie spice

2 ½

tsps

baking soda

1

cup

walnuts (optional)
Instructions
Prepare the batter: Preheat the oven to 350 ° and get out a large mixing bowl. Mix all the ingredients thoroughly together with a spatula.

*Add 1 cup of chopped walnuts for extra texture and flavor!

For loaves of bread: This recipe makes 3 loaves of bread (9x5 pan). Grease the pans and then add parchment paper covering the bottom and sides of the pan for the loaves to come out clean and easy! Pour the mixture evenly between three bread pans, filling each 3/4ths of the way full. Bake in the oven for 60 minutes. (Or until toothpick comes out clean.)

For muffins: Instead of loaves, this recipe makes about 20 muffins. First spread butter in a muffin tin. This helps the muffins to come out easily after cooling. Next spread the mixture in a muffin pan filling each muffin 3/4ths of the way full and bake for 25 minutes. Let cool before taking them out.