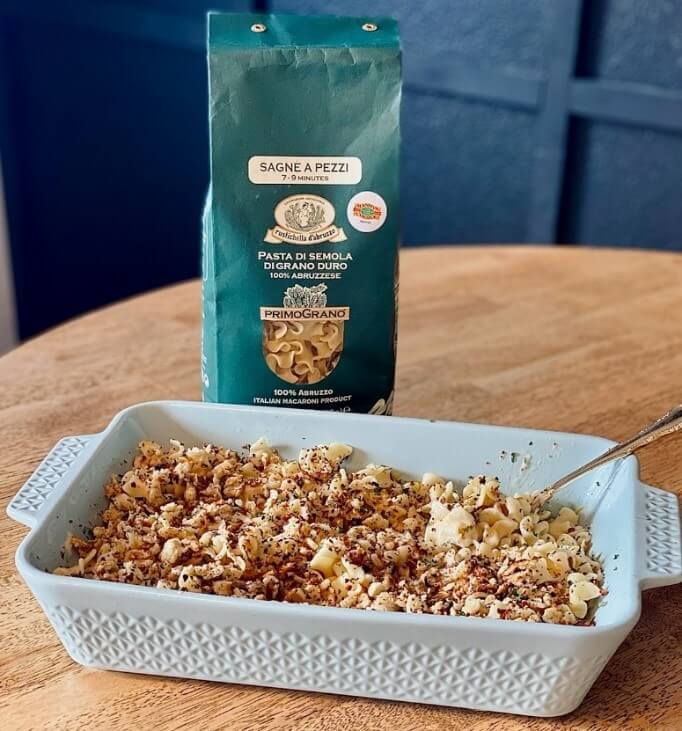 Manny's Choice Baked Mac and Cheese with Breadcrumbs
Ingredients
Mac and Cheese
1

package

Manny's Choice Sagne A Pezzi pasta

1

tbsp

extra virgin olive oil

5

tbsp

unsalted butter

2½

cups

whole milk (low fat or nut milks can be substituted)

1/3

cup

Manny's Choice Flour

1½

cups

heavy whipping cream

4

cups

shredded sharp cheddar cheese

2

cups

shredded monterey jack cheese

Salt and pepper to taste
Breadcrumbs
5

slices

bread

2

tbsp

olive oil

¼

tsp

dried thyme

¼

tsp

garlic powder

Salt and pepper to taste
Instructions
Make the Bread Crumbs: In a food processer tear the bread into large pieces and pulse until they are coarse crumbs. In a large skillet over medium-high heat, add the olive oil to warm. Next add the bread crumbs, garlic power, thyme, salt and pepper to the pan, stirring constantly. This should cook for 5 to 6 minutes until the breadcrumbs are a golden color and crisp. Transfer to a bowl to cool and set aside.

*See Manny's Choice bread recipes if you want to make homemade bread to use for the breadcrumbs.

Cook the Pasta: Cook Manny's Choice Sagne A Pezzi pasta one minute shy of al dente. Then remove the pasta, drain, and set aside in a bowl. Drizzle the pasta with olive oil.

Make the Cheese Sauce: Melt butter in a deep saucepan. Whisk in flour over medium heat for about one minute until bubbly and tanned. Next slowly whisk in the milk and heavy cream until nice and smooth. Continue whisking until you see small bubbles on the surface then whisk in salt and pepper. Continue whisking for another 2 minutes. Lastly, add two cups of cheddar cheese and two cups of monterey jack cheese and continue whisking until the sauce is velvety, and thick. Stir in the cool pasta until coated with the sauce.

Bake in the Oven: Preheat oven to 350. Transfer the pasta with cheese sauce into a baking dish and smooth out. Sprinkle the remaining 2 cups of cheddar cheese over the pasta. Finally top the dish with the homemade breadcrumbs, cover with foil and bake for 20 minutes. Then uncover and bake for 10 more minutes. It should be bubbly and golden in color.