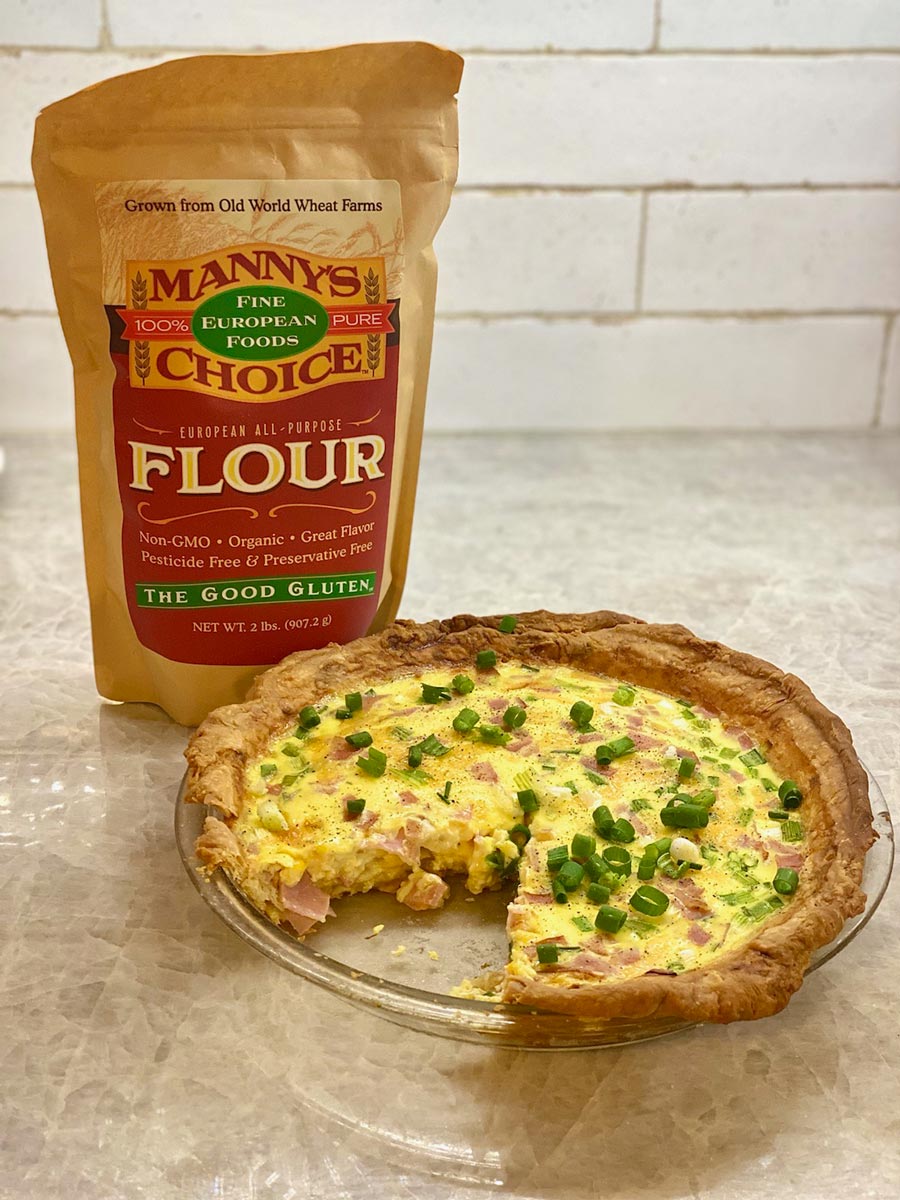 Manny's Choice Ham and Cheese Quiche
Ingredients
Quiche Crust
2 ¾

cups

Manny's Choice flour

1

tsp

salt

1

tsp

baking powder

8

ounces

unsalted butter (cut up and frozen)

4

ounces

water
*Crust part of the recipe makes enough for 2 crusts. You can freeze or refrigerate the extra dough to make another quiche later.
Filling
6

pieces

eggs

¾

cup

milk

1

cup

ham

1

cup

shredded cheddar cheese

¼

cup

green onions

Salt and pepper to taste
Instructions
Make the dough: Add the flour, salt and baking powder to a food processer and pulse 3 times to blend. Add the frozen butter (separate pieces if stuck) and pulse the flour mixture until there is walnut and pea size pieces of dough. Next drizzle in the cold water and pulse until combined. Wrap in plastic wrap and place in refrigerator for 30 mins.

Roll the dough: Sprinkle dough and rolling pin with flour. Start rolling the dough from the middle and go outwards. Keep turning the dough as you are rolling. You can sprinkle more water or flour as needed. The dough should be a little larger than the 9-inch pie pan. Place dough in pie pan and wrap and freeze for at least 30 mins.

Bake the pie crust: Preheat oven to 350. Take the pie crust out of freezer and place aluminum foil on top of the pie crust, pressing the foil down and into the corners. Make sure there is a little excess foil over the sides of the crust. Next on top of the foil, add pie weights, a smaller pie pan, sugar, etc. to weigh down the crust to avoid bubbles. Bake for 45 minutes. Lastly, remove the aluminum foil and weights.

Make the quiche filling: Roughly chop the ham and green onions. In a large bowl whisk the eggs. Next add the milk, shredded cheese, ham, green onions, and salt and pepper to the bowl. Whisk again to combine.

Add quiche filling: Turn up the oven to 375. Gently pour the egg mixture into the quiche crust. Next, bake the quiche for 35 minutes, or until the center is set. Let cool and slice.